Cartoon Manifesto
Cartoon Manifesto is a collection of 50 black and
white one-panel cartoons, printed on high quality
gloss enamel pages.
What readers are saying...
Semelroth spills forth a world of irreverence, brutal puns and flocks of rubber chickens in an ironic parallel universe run by clowns and talking celery. After experiencing Cartoon Manifesto, you'll live in despair for the inevitable fate of humanity, but you won't care because your thoracic diaphragm hurts from laughing so hard.
The simplicity and clean lines of Semelroth's single-panel cartoons belie his consistently incisive, subversive and smart commentary. His humor is dark, his characters are wide-ranging, endlessly quirky, and no topics are off-limits. His minimalist, direct approach is fresh, funny and crystalline. These cartoons make you LOL!
Eric Semelroth's work forces you to think before you laugh... giving him just enough time to run away.
Many people disregard the depth of Semelroth's work, the subtle psychological paradoxes and the insightful philosophical conundrums, and simply focus on the laugh... I know, I'm one of those.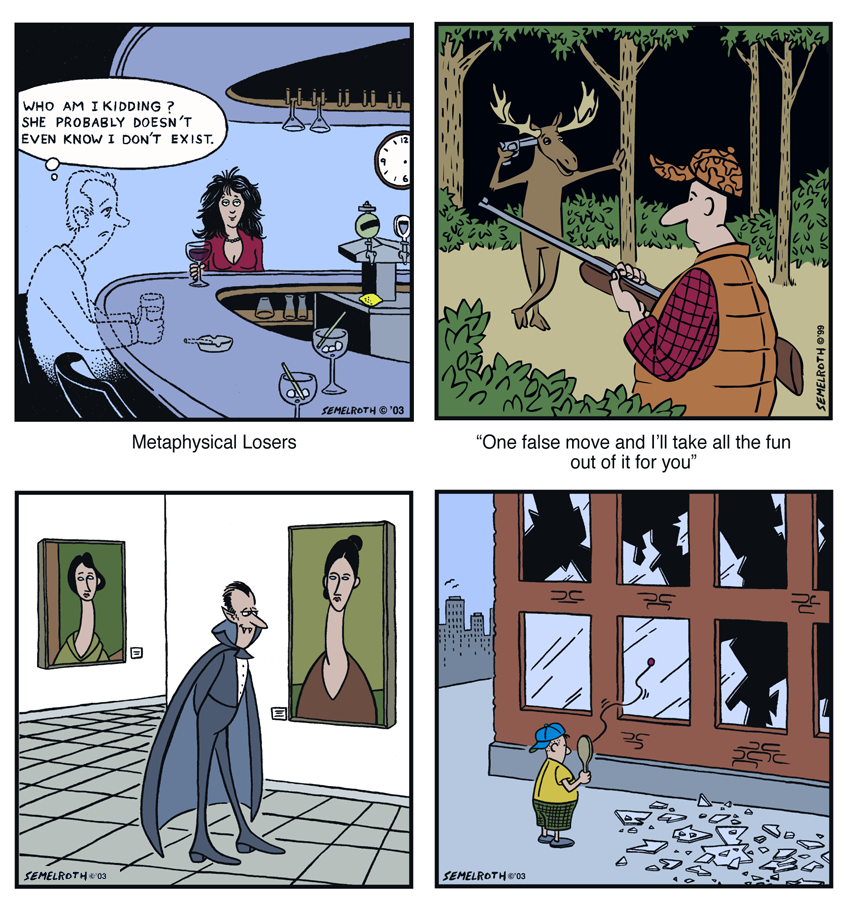 ISBN: 0-9638574-0-1
Sample cartoons above are color versions of black and white cartoons that appear in the book.
Questions? Comments? Contact esemelroth@hotmail.com